September '19 Blog
This is our first of many monthly blogs and we can't wait to show you all the fun things we did and the beautiful weddings we got to be a part of, along with sharing a few tips from your favorite floral experts.
Recap Of This Months Weddings!
Click on the photos for photographers info!
Wedding Spotlight: Lauren & Jeremy's Fairytale Wedding
On September 21st, Lauren and Jeremy got married at the stunning Airlie Gardens in Warrenton, VA. We loved all the special details and design elements that were a part of this fairytale inspired wedding. This couple's love story is so sweet! The groom actually sold his blood for a YEAR to save up for Lauren's engagement ring. The wedding really showed off the couples personalities: everything is fairytale inspired because of Lauren's love of Disney and we love that the groom wore his signature cowboy boots and hat! We used flowers in shades of cream, moody pinks and purples to create a color palette that really is the perfect transition from summer to fall. We added succulents as well, for a really fun and unique look. To pull off the fairytale aesthetic we used our white wisteria trees with glass bubble balls hanging from the branches. Each bubble ball had a tea light candle as well, to add to the romantic lighting. We loved that the couple chose gold mirrors for their table numbers and white pumpkins as part of their decor! Everything about this wedding is just so sweet and personal to this couple, which really made it special. There are so many ways to honor loved ones that are no longer with us in a wedding. Jeremy decided to honor his grandfather with a quilted blanket he made, as well as by carrying his grandfathers pistol. Ofcourse this sweet couples wedding wouldn't be complete without their dog as well. This wedding was defiantly one for the books!
Photography: Krysta Norman
What To Have Prepared For A Floral Consultation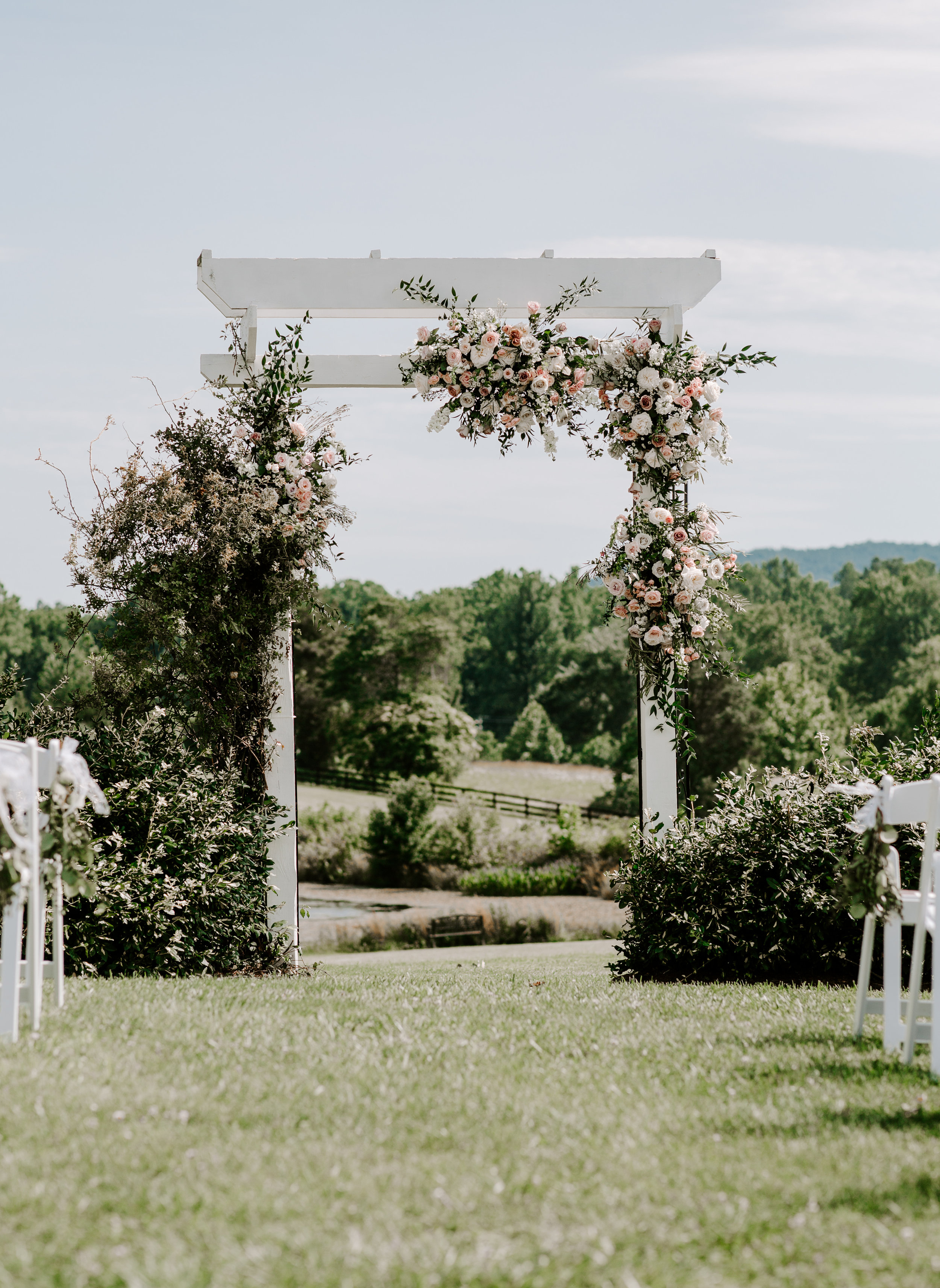 We suposy we can give you a few pointers… wink wink
We love getting to sit down with prospective clients for their wedding floral consultations! It is where we really get to see the couple's vision and play around with ideas. We know that not everyone knows what to have prepared before coming to their consult so here are a few things that it really helps to have!
· Most important is having your wedding date and venue booked! Knowing what your venue looks like is crucial to being able to get the aesthetic that you want for your big day.
· Know how much you're willing to put towards your floral investment! Florals are extremely important to any wedding (I suposy we are a little biased on this fact) so knowing how much you want to spend is very helpful for us when trying to bring your vision to life!
· Bridesmaids dresses! It is incredibly helpful to have your bridesmaids dresses picked already (or at least knowing the color(s)) because everything is based around that color palette.
· Having an idea of what color scheme & theme is also good to know!
· BONUS: Having a prepared floral Pinterest board is a HUGE plus because then we can visually see what you are really envisioning.
Do not worry about knowing specific flowers you want or anything else. If you have an idea of some favorite flowers that is great but we will educate you on what's in season, allergy friendly plants, what flowers will fit into your budget, etc!
Photography: Ray Photography Co.
Behind The Scenes This Month!
Here are a few behind the scenes pictures from The Rosy Posy team…
Picture 1: Family is everything! This is Ella's sweet mother-in-law who came in to help out in the shop while visiting all the way from Tucson, AZ.
Pictures 2 & 3: The Rosy Posy team hard at work! We loved creating this custom gold hoop arch.
Picture 4: Couldn't leave out Lisa showing off her hairy arm pits with blue thistle!!
We want to thank all the amazing photographers who took these gorgeous photos!!